Undergraduate Student News
2020
2020 Undergraduate Student Awardees
Hugo Otto Wolf Memorial Prize: Jacob G. Faber-Rico and Lauren J. Hoang
R. M. Brick Award: Joel M. Chacko and Robert M. Brosnan
Penn Engineering Exceptional Service Award: Kevin J. Liu and Alexander E. Proschel
Wolf-Hallac Award: Nidhi Kapate
Thouron Award: Zachary Whitlock
William R. Graham Materials Science and Engineering Senior Design Award for Design Iteration
Team Food2Fuel
Garrett Auer, Priya Bhirgoo, Zoeb Mohammedshah, Jiyeux Seok
William R. Graham Materials Science and Engineering Senior Design Award for Ecocsystem Impact
Team Cosmetric
Emma Buerger, Henry Garant, Hillary Miller
William R. Graham Materials Science and Engineering Senior Design Award for Experimental Design
Team ConsciousComposites
Eli Newberger, Alexander Proschel, Zachary Whitlock
William R. Graham Materials Science and Engineering Senior Design Award for Financial Excellence
Team Supercharged
Cabir Kansupada, Veer Sobti
William R. Graham Materials Science and Engineering Senior Design Award for Societal Impact
Team Dippin' Dots
Joel Chacko, Kevin Liu, Zachary Varley, Duncan Zavanelli
William R. Graham Materials Science and Engineering Senior Design Award for Startup Potential
Team MagnetECH
Raj Bhuva, Huiyuan Chen, Richard Ling, Derek Nong, Andrew Nyholm
William R. Graham Materials Science and Engineering Senior Design Award for Technical Application
Team NanoCure
Robert Brosnan, Lauren Hoang, Nidhi Kapate
William R. Graham Materials Science and Engineering Senior Design Award for Technical Communication
Team AC/DCrease
Blake Arevalos, Jacob Faber-Rico, Makala Faniel, Richard Whitaker
2019
2019 Undergraduate Student Awardees

Engineering Alumni Society Eichert Award: Robert Brosnan
Hugo Otto Wolf Memorial Prize: Narelli de Paiva Narciso
R. M. Brick Award: Julia H. O'Mara
Faculty Appreciation Award: Theodore Kurkoski and Sona Dadhania
William R. Graham Materials Science and Engineering Senior Design Award:
1st Prize: Sona Dadhania, William Drobnick, Kiera Thompson Towell
2nd Prize: Gray DeSimone, Emily Spencer
3rd Prize: Narelli de Paiva Narciso, Christina Nordrum, Olivia Ruiz

2018
2018 Undergraduate Student Awardees
Godsho Award:  Simeon Ristic
Hugo Otto Wolf Memorial Prize:  Brandon Kao
M. Brick Award: Noah E. Geller, Noah Glachman, Samantha Burns
Faculty Appreciation Award:  Grant Shao, Sarah Seeger
William R. Graham Materials Science and Engineering Senior Design Award:
1st Prize:  Simeon Ristic
2nd Prize:  Samantha Burns
3rd prize:   Brandon Kao
In addition, three MSE Seniors were awarded a NSF GRFP Fellowship:
Demi Moed
Simeon Ristic
Sarah Seeger
2017
   2017 Undergraduate Student Awardees
Engineering Alumni Society E. Stuart Eichert, Jr. Award
Recipient: Samantha R. Burns
Hugo Otto Wolf Memorial Prize
Recipient: Daniel B. Durham
James Howard Weiss Memorial Award
Recipient: Daniel B. Durham
R. M. Brick Award
Recipients: Yu Ren Zhou, Zachery W. Iton, Jaron X. Ma
Faculty Appreciation Award
Recipients: Jaron X. Ma, Rachel M. Gordon
William R. Graham Materials Science and Engineering Senior Design Award:
1st Prize: Jaron X. Ma, Lyle C .Wistar, Emily M. Zinselmeier
2nd Prize: Daniel B. Durham, Steven A Schwartz, James A. Townley
3rd prize: Sebastien C. Naji
MSE Senior Design Presentation and Poster Session: Graduating seniors presented their senior design projects in the Glandt Forum on April 21, 2017.This year's presentations were as follows:
$350 vs Greenhouse: Mesoporous Carbon Film with Integrated Platinum Nanoparticles for Catalysis
2DSC: Electronic Transport in Semiconducting 2D MoS2 Junctions
EmJaLy: Humidity-Actuated Panels for Active Architecture
LuminoPore: Three-Dimensional Light-Emitting Diode Based on Nanoporous Scaffolding
Nano is Small: Fabrication of Silver Nanowire-based Quantum Dot Light Emitting Diodes
Green QD: Containing Quantum Dot Cytotoxicity Using Organic Shells
Fly & Dry Athletics: Investigating Athletic Applications of Hydrophobic Coatings
Congratulations to our seniors and award winners!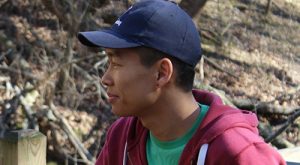 Dean's Scholar Jaron Ma, C'17, on his wide horizons as a VIPER student: From watching forces interact at the atomic level to using satellite images for ecology research, Jaron Ma, C'17, has seen it all as a VIPER student. The Vagelos Integrated Program in Energy Research, known as VIPER, was created for students interested in solving the world's energy problems. The dual-degree program is jointly run by Penn Arts and Sciences and Penn Engineering and Applied Science. It's designed to get students quickly involved in exploring energy research, as well as prepare them to introduce their ideas to the outside world. Read the full story here.
Justin Qian, VIPER Class of '19, Receives NACE-Philadelphia Section Award: MSE and VIPER sophomore Justin Qian recently received the National Association of Corrosion Engineers (NACE) Philadelphia Section award. For more information about Justin and his research at Penn, see this description. For details about NACE/Philadelphia, click here.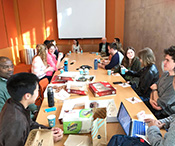 Undergraduates and Faculty Share Friday Afternoon Doughnuts: The MSE Society organized an informal event for undergraduate students and faculty on a sunny Friday afternoon in February! Thanks to everyone that stopped by. It was a relaxed and delicious event!
Jaron Ma Receives a 2017 Dean's Scholar Award in SAS: Jaron Ma (Earth and Environmental Science & Materials Science and Engineering) is a senior in the Vagelos Integrated Program in Energy Research (VIPER). He has been conducting research in the laboratory Prof. Robert Carpick (SEAS) and worked with Senior Lecturer Jane Dmochowski (SAS). With Prof. Carpick, Jaron had used has used atomic force microscopy to explore the tribological properties of industrial lubricant additives at the nanoscale.
Penn Arts and Sciences named 20 students from the College of Arts and Sciences, the College of Liberal and Professional Studies, and the Graduate Division as Dean's Scholars. This honor is presented annually to students who exhibit exceptional academic performance and intellectual promise. The 2017 Dean's Scholars were formally recognized as part of the Levin Family Dean's Forum on February 23.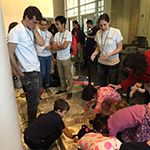 Penn MSE Students Participate in Philly Materials Day: MSE Undergrads participate in Philly Materials Day, February 4, 2017. Philly Materials Day focuses on hands-on activities for all ages and special small group workshops geared to kids ages 10 to 17 where participants will work on teams exploring how specific materials impact their world.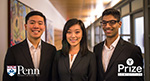 2017 Y-Prize Winners: MSE student Brandon Kao '18 was among the winning team Visiplate in the 2017 Y-Prize competition. Visiplate seeks to usenanoscale plates as part ofa treatment for open angle glaucoma, a leading cause of blindness. Each year, the Mack Institute, Penn Engineering, Penn Wharton Entrepreneurship, and the Penn Center for Innovation come together for the invention competition known as the Y-Prize. The Y-Prize starts with the technologies and challenges entrants to find commercial applications they are particularly suited for. Read the full story here.
2016
2016 Undergraduate Student Awardees
Manfred Altman Memorial Award
The Manfred Altman Memorial Award, founded in recognition of the outstanding qualities possessed by Professor Manfred Altman, is given annually to the freshman or sophomore in engineering who has best demonstrated initiative, innovation, and ingenuity in his or her studies.
Recipient: Brandon W. Kao
R. M. Brick Award
This award is named for the first chairman of the Department of Materials Science and Engineering, and is awarded to the graduating senior who has demonstrated through a combination of academic performance, effort, and personal qualities that he or she will be a credit to the Department, the School, and the University.
Recipients: Erik G. Burbulla, Morgan B. Lundblad
Faculty Appreciation Award
This award is given by the faculty of the School of Engineering and Applied Science to recognize and honor outstanding students for their service to the University.
Recipients: Kristen E. Duda, Jason H. Woo, Caitlyn M. Ullman
William R. Graham Materials Science and Engineering Senior Design Award
First Place:Gerardo Cedillo-Servin, Kristen E. Duda, Morgan B. Lundblad, Caitlyn M. Ullman
Second Place: Timothy Kean Khoon Goh, Jin Soo Lim
Third Place: Julia Fordham, Albert Xiao
Hugo Otto Wolf Memorial Prize
This award, founded by Otto C. Wolf in memory of his son, is awarded to that member of the senior class in each department of the School of Engineering and Applied Science who, during the senior year, by the thoroughness and originality of his or her work, meets with the greatest approval of the professors in charge.
Recipient: Timothy Kean Khoon Goh
SEAS Senior Design Competition
First Place: William Cheng, MSE, and 3 MEAM students: Sasha Klebnikov, Christina Springer, Chevonae Walcott
2016 Science Ambassador Scholarship
A full-ride scholarship to study Materials Science and Engineering funded by Cards Against Humanity.
Recipient: Sona Dadhania, freshman, MSE