13 Questions – Kyle Keenan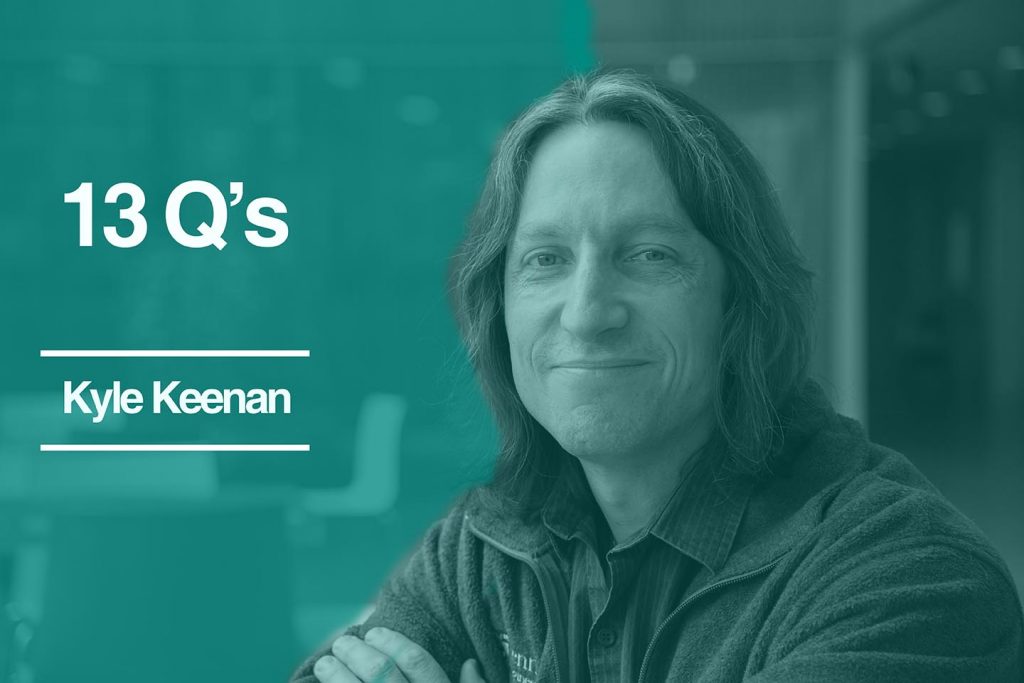 It takes a village…. To apply your nano research at Penn, chances are that you've crossed paths with Kyle Keenan, Operations Manager at the Singh Center for Nanotechnology. Kyle, originally from the Boston area, got his start in nanotechnology working for Alpha Industries (now Skyworks, Inc.), before moving on to MIT Lincoln Laboratory. He'd still be there, were it not for meeting his lovely wife Teresa, who lured him to Philadelphia and, eventually, Penn, where he has been for over 13 years.
In his role as the Operations Manager for the Quattrone Nanofabrication Facility, he sees himself as a facilitator for research, helping researchers one nanometer at a time. When he's not working at QNF, he spends his time lounging around the house with his wife and three cats, or playing guitar and singing in his rock band with other (older) middle-aged guys. We sat down to ask him 13 questions in what I'll call the Boston Music Sessions….

1. Who's missing from the Rock n' Roll Hall of Fame?
How much time do you have? Ronnie James Dio, Jethro Tull, Styx, and that's just for starters.
2. Of the Kiss legion of players, you get to pick four members for the ultimate Kiss lineup?
At the end of the day, it all comes down to the original 4, no matter what Paul and Gene think: Ace Frehley, Peter Criss, Gene Simmons and Paul Stanley.
3. Is a roll-based sandwich a Grinder, Hoagie, or a Sub?
I'm from New England, so it's either a Grinder or a Sub (they are interchangable). I always thought that "hoagie" was a New York thing, until I moved to Philly.
4. Ian Stewart often called Mick and the boys, his "three chord wonders." What's the easiest three-chord progression?
Why, that would be the I, IV, V progression, of course!
5. The greatest invention from Boston?
Does beer count as an invention? If so, Samuel Adams Boston Lager.
6. I recall reading a New Yorker article entitled, "Valley of the Dolls," and the focus was on the end of originality.  Music and technology are ever changing, advancing in ways we never thought possible. We've lived through the creation of Rap from RB/Soul, Heavy Metal from Hard Rock.  Not to get into my geriatric rant of, "you kids don't know what good music is. Frank Sinatra, now that was a singer" phase, though I'm close. What's the new extension in music these days? 
That's probably AI-created music, which I find frightening. Besides that, what's old is new again, so we're seeing a lot of organic, "old-school" guitar/bass/drums/vocal type bands making a resurgence, which is encouraging.
7. You play guitar in a band. What are the five songs that you love to play the most?
This changes from time to time, but of the songs the band knows, some of the most fun for me right now are:
"Possum KIngdom" (Toadies)
"Blue Collar Man" (Styx)
"Twilight Zone" (Golden Earring)
"Just What I Needed" (the Cars)
"Is it My Body?" (Alice Cooper)
8. The call arrives….a lead guitarist is needed at Hyde Park.  Who's the band (dead, alive, disbanded)?
As much as I want to say Black Sabbath, that would mean I'm stepping in for the great Tony Iommi, their one and only guitarist, which I cannot envision, so I'll say Alice Cooper. Lots of fun, multi-guitar songs in the AC catalog to play.
9. Gotta go with top five songs from Boston Bands.  "Good Vibrations" by Marky Mark is off the table by the way.
Nearly impossible to answer, but here are some great ones that come to mind:
"Am I Ever Gonna Change" (Extreme)
"Awake" (Letters to Cleo)
"Dream On" (Aerosmith)
"Don't Look Back" (Boston)
"The Stroke" (Billy Squire)
10. It's your solo album and you gotta go with a lead singer.  Who are you bringing in? Robert Plant, Lita Ford, Chrissie Hynde, Joan Jett, Ozzy Osbourne, Axl Rose, Alice Cooper, Brian Johnson.
Glenn Hughes. If you don't know who he is, you should. Look him up…
11. Simpson's Poker: You've stayed the course and have watched every episode of every season of the Simpsons (in real time) for what seems like 40 years.  What are your three favorite episodes? 
You're asking me to pick my top 3 out of nearly 750 episodes? Impossible. I can give you three good ones that come to mind:
"How I Spent My Strummer Vacation"
"Homer's Phobia"
"Oh Brother, Where Art Thou?"
12. Top five Simpson's guest stars?
Again, an impossible question to answer with so many guest stars, but you've got to love a show that convinced the (then) 3 surviving members of the Beatles to appear on separate episodes, so I'll go with:
Ringo Starr
George Harrison
Paul McCartney
Kelsey Grammer
Leonard Nimoy
13. The beauty of a roundabout?
There is no beauty in what New Englanders call a "rotary", primarily because they don't know how to use them like the Europeans do. Lots of hand gestures…
Okay, New England special
14. Tom's (Brady) gone. The Tuck Rule? You can admit now.  It was a fumble, right?
Nice try.
Previous Guests